Meet some of the amazing people that work at Adams Moore.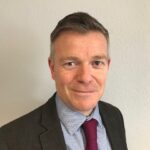 At Adams Moore I am passionate about working in partnership with our clients so they can achieve their business goals. I believe Accountants should not be historians, but instead be commercially focused and deliver a positive impact by providing regular quality and timely information and business advice. The services at Adams Moore are designed to meet the needs of businesses of all sizes in today's challenging economic environment, offering much more than regular accountancy services within a fixed fee, to negate the worry of an open-ended bill. These services include everything from business advice to strategic forecasts and attending off site meetings, so our clients get the absolute optimum from our service, as well as ensuring good governance, and long term planning is in place. Specialities: Accountancy Services, Business Advice, Commercial Focus including Business Protection, R&D Tax Credits
I qualified as an accountant in 1994 whilst working for local accountancy practices gaining extensive experience in accounting, audit and taxation. I joined Adams Moore in 2011 on my return to the UK from 3 years working in an accountancy practice in New Zealand. Having always adopted the mantra "reliance not compliance" I have loved helping clients grow their ideas into flourishing, profitable businesses, whilst delivering the best possible compliance and advisory services. At Adams Moore we understand that a personal approach, along with an ability to translate technical terms into easily understood language, really adds value. With a large client portfolio I do like to ensure that I cultivate strong working relationships with my individual clients and know their business, however large or small. Specialities: Construction Industry & Property Development, Hospitality, Retail, Manufacturing, Making Tax Digital, R&D Tax Credits
As a qualified CIMA accountant, I have worked in all manner of accounting and finance roles, starting in an accounts clerk position, working upwards and moving into financial management and budgeting. I completed my AAT qualification in May 2015. Upon joining Adams Moore in 2016, I began working with our larger board support clients and took quickly to a more client facing role dedicated to a portfolio of clients. I enjoy measuring their performance month on month, watching them achieve their goals and offering up advice where necessary. I manage our team of accountants and am enthusiastic about delivering a timely and efficient service whilst supporting the performance of my team. Specialities: Management Information, Client Relations, Corporate Tax & Company Structure
Working in a financial and customer service environment for 25 years, I offer excellent inter personal skills whereby I utilise my organisational and administration expertise to support my team and clients. I joined Adams Moore in 2017 working as a Payroll Assistant; I carefully maintained records regarding employee wages, benefits and taxes, which progressed into managing complex payrolls ensuring accuracy in a timely manner. I work well under pressure to meet deadlines to deliver successful results and continue to review processes to meet the needs of our clients. I thoroughly enjoy working at Adams Moore; not only have I been given the opportunity to demonstrate my ability and achieve optimal levels of personal performance to accomplish my own goals, I love the team of people I work alongside as we all strive to deliver exceptional service to our clients.
I was delighted to secure an administrator position with Adams Moore in 2019. It is a vibrant company which has grown rapidly during my time here. I bring many years of experience in administration, sales and marketing and utilising this knowledge, have refined processes and looked at more efficient ways of working. As Practice Administrator, it is paramount that the admin team provides a timely and efficient service to the accountancy process, of which it is the backbone. My team prides itself on great client relations and an ethos of best service. I thoroughly enjoy my work, and the spirit with which Adams Moore practices. It feels like a family and everyone supports each other on their journey.
Find out about current opportunities.